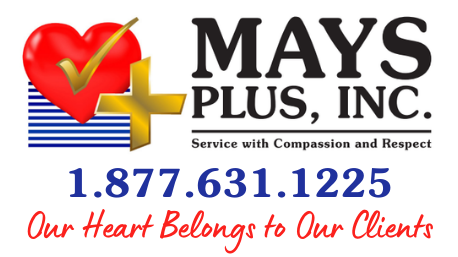 Mays Plus Practices "CLIENT FIRST" in all aspects of care, from intake to service provision!
Mays Plus specializes in service provision geared toward making activities of daily living and the client's environment safe. Let Mays Plus trained staff provide you or your loved one with the assistance needed to remain as independent as possible for as long as possible. Many times as we get older starting the day can be a challenge. Safely getting up and preparing for the day may be a concern. Let one of our aides get your day off to a good start by assisting you or your family member in bathing, dressing, grooming, and meal preparation. We also provide assistance with other activities such as light housekeeping, laundry with linen changes, and errands.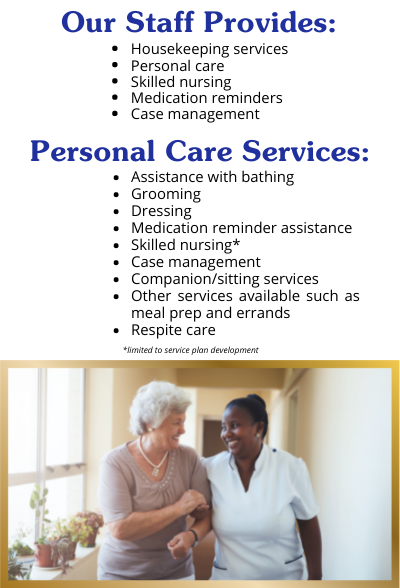 At Mays Plus, we realize some individuals may need only a few hours of assistance with tasks and others may need more in-depth services. Mays Plus specializes in customizing plans to fit individual personal needs. By working with you and/or your loved one we understand your personal preferences and specific assistance requirements. Our caregivers are attentive, passionate, detail-oriented, and professional.

Become a Caregiver
Mays Plus is hiring for Personal Care Assistants (PCAs) in
Oklahoma & Northeast Texas
Contact Us
877.631.1225
If providing a review or testimony, by submitting this form you are agreeing to the following:
"I hereby consent to the use of my testimony by any means, including but not limited to disclosure by photographs, newspaper advertising, company brochures, posting on the company website, branded social media platforms, etc. by Mays Home Care Companies as deemed appropriate by authorized personnel."
Agency complies with applicable Federal civil rights laws and does not discriminate on the basis of race, color, national origin, age, disability, sex, or handicap in admission, access to or treatment, or employment, in its programs or activities.